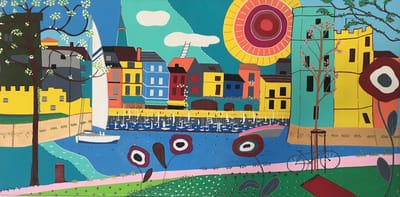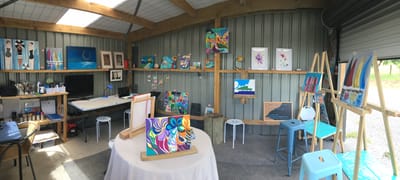 About my inspiration and my paintings
I am Audrey Dubois and I live in New Zealand from August 2018. We come from Niort, close to La Rochelle, on the west coast, in France. It is a new challenge to live in New Zealand with my husband and my 2 children. We think it is a good way to discover a new culture and learn English language.
When I was young, I loved drawing. When I was 35 years old, I decided to take some lessons !! And I love it. It is a real passion.
We lived not so far on the beach, in France. I love going on the beach to hear the waves. It sounds good for my spirit! It is maybe why I love painting some fish, sail and lady on the beach and landscapes. I prefer to draw contemporary and modern pictures. I am a very positive and enthusiastic woman. I think that is why my painting are always very colored.
I had never think to do some exhibitions ! My first time was in New Zealand ! You can discover my acrylic and pastel paintings online, during markets and in several restaurants.
You can order your special painting. I can send overseas !
About my painting nights and art workshops
These workshops are a good opportunity to meet new people and share our passion and skills. If you would love to be an artist, this is your opportunity ! Come to create a beautiful acrylic painting amongst a small group of like-minded people.
All materials will be provided
Date and time :
- Every third Friday of the month - 6.00 to 9.00 pm - Whakamarama
- Every last Tuesday of the month - 10.00 to 1.00 pm - Whakamarama
Conditions : Places are limited - Payment in advance.
About my art classes for kids and adultsAfter-school / Saturday morning / One-to-one / Art like a therapy
Kids enjoy learning new skills as well as a healthy dose of exploration : drawing, painting. They can discover new materials and technics. Every Monday and Thursday and Saturday, students and/or parents can come to share a passion or discover a new activity !
This program is the perfect blend of creative fun and fine arts education! Your child will gain both confidence and an understanding of the visual arts while building painting, drawing and mixed-media skills. Throughout the year, we explore a variety of artistic technics : acrylic painting with paintbrush, fingers, pens..., watercolour, pastels, drawing with charcoals, art markers... Different styles about animals, people, landscapes, flowers or abstract concepts. Weekly classes are held on Monday and Thursday throughout the school year.
Sessions are challenging and exciting from 5YO. Date and time : every Monday and Thursday from 4.00 to 5.30 pm and Saturday mornings from9.00 to 10.30.
If you want to book a private event or a private lesson, do not hesitate !
For beginners and intermediate.
All materials will be provided
Conditions : Places are limited - Payment in advance online
We keep in touch
You can follow and like my Facebook page "Week end à la mer" - @audreynzWE
Do not hesitate to contact me if you have any questions,
See you soon
Audrey Dubois